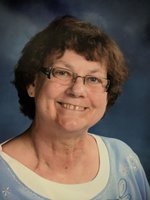 Kay Francis Verrett
Kay F. Verrett, 65, of Sawyer Michigan, passed away on Wednesday, November 6, 2019, at her home, with her loving family by her side.
Kay was born on October 11, 1954, in Newberry, Michigan to Kenneth and Sally (Heppe) Matchinski.
On November 25, 1988, she married Guy Verrett at St. Gregory Catholic Church in Newberry.
How does one deal or cope with the loss of a loved one? Especially a loss that seems too soon, and not fair. You cope by remembering. Kay played many parts to many people in this thing called life. She was a mother, wife, grandmother, daughter, sister, and friend. She loved fiercely and long. If you were her friend, you were a friend for life. Kay loved life! She lived it, felt it and was always open to new experiences.
Kay was first diagnosed with cancer in 1997. From that point on Kay became a warrior. She had a son to raise and that was her mission, to live to raise her son Eric. Not only did she do that, she beat cancer. Kay loved to go to plays, travel and most importantly spend time with her clan. She had a love for swimming, so she got a pool. She just loved her pool and it was a gathering place for her family. When cancer came again, Kay beat it again, because she is a warrior and she was not ready to let life go. She continued to do the things she loved, and part of that was helping to raise her grandchildren. Kay retired early from the State of Michigan knowing that this life may not be one of longevity, but of quality and she was right.
When cancer came again, it would be her final battle. One that she did not win, but really, she did win. Kay won in life!! She was so loved by so many and her essence will go on in all the lives that she touched. Dance with the angels Kay, give them a run for their money.
Kay is survived by her parents, Kenneth and Sally Matchinski of Brutus, Michigan; husband, Guy Verrett of Sawyer; children, Alicia (Scott) Fender of LaPorte, Indiana; Windy (Keith Foust) Kacmar of Three Oaks; Eric (Jordan Skinner) Verrett of St. Joseph; six grandchildren; five great-grandchildren; siblings, Kenneth (Wanda) Matchinski of Brutus, Keith (Jill) Matchinski of Walloon Lake, Keri (Chris) Vigneau of Petoski, and Karla (Steve) Averill of Portage.
A Memorial service will be held later in Newberry, Michigan.
Memorial contributions in her memory may be directed to Lory's Place, 445 Upton Dr, St. Joseph Michigan 49085.